Uranium Workers' Day, Feb 27 in Santa Fe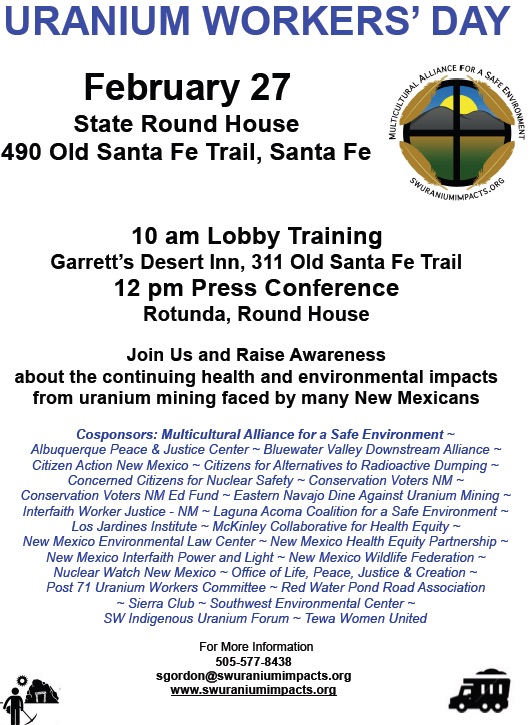 Click to read the amendments to the Radiation Exposure Compensation Act

Your donations are vital to MASE's ability to help uranium-impacted communities of the southwestern U.S. You may make your donation through the Southwest Research and Information Center. When you fill out the form, be sure to enter "MASE" in the Designation field, as shown here:

CD Sale to Benefit MASE

The In the Heart of the Wild Flame CD is well crafted and evocative. The album includes a pamphlet with all the words, English translations of Spanish and Navajo, and explanations and meanings of the instrumentals. Click here to purchase
From our Facebook Group
MULTICULTURAL ALLIANCE FOR A SAFE ENVIRONMENT (MASE) shared Frack Free New Mexico's post.

Another example of an extraction business filing for bankruptcy and getting away without paying for cleaning up their mess. Cronies of the Carlsbad mayor and big donor to Gov. Martinez. ... See MoreSee Less
via New Mexico Political Report The Santa Fe Reporter's cover story this week focuses on oil drilling and development in the Permian Basin. And the cost of addressing a sinkhole in Carlsbad keeps rising. According to an Associated Press story, it's now up to more than $40 million. That area is in danger of collapsing, due to previous oil drilling activities. The company has since moved on, leaving behind responsibility for the sinkhole, too. Last year, the New Mexico Legislature allocated money toward a study to prevent its collapse. But local officials continue to balk at having to contribute toward the cleanup, saying the state should be responsible.
MULTICULTURAL ALLIANCE FOR A SAFE ENVIRONMENT (MASE) shared a link. ... See MoreSee Less
Archives