Inter-Mountain Uranium Summit 2
November 20, 2016, San Carlos, AZ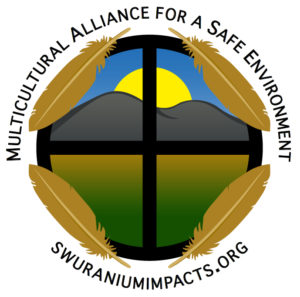 Your donations are vital to MASE's ability to help uranium-impacted communities of the southwestern U.S. You may make your donation through the Southwest Research and Information Center. When you fill out the form, be sure to enter "MASE" in the Designation field, as shown here:

Re-Imagining Extractive Pathway:
Uranium Mining in the Southwest and The Multicultural Alliance for a Safe Environment by Eliza Van Dyk, October 8, 2021Click here to View Story Map
From our Facebook Group
On a warm July evening, Yolanda Badback described the noxious fumes that haunt the air where she lives. Unlike the fragrance of sagebrush or the sweet scent of juniper and piñon, the odor is astringent and sulfuric, hard to breathe. Sometimes it forces Badback and her family of eight to stay indoors. At its worst, it causes nausea.

Badback lives in White Mesa, Utah, on part of the Ute Mountain Ute Reservation. The smell comes from her neighbor, the White Mesa Mill, the last conventional uranium mill in the United States. When the mill's tall smokestacks begin to billow and the winds roll off the blue Abajo Mountains, the stench floats five miles south to White Mesa. Badback, like most residents, can smell it from her doorstep.

Badback sat on a gray couch, hugging a pillow to her chest, her long black hair pulled into a loose ponytail. A retired health representative for the tribe, she has devoted her life to closing the mill. Badback's mother, Ute Mountain Ute elder Thelma Whiskers, sat next to her, switching between English and the Ute language whenever her great-grandchildren peered through the doorway or came into the room.

"A lot of people don't understand what we go through here in our community," Badback said. "We want the mill to close. We want them to clean it up."

📸: @russelalbertdaniels

Read the rest of the story at the link in our bio. ...
Load more
Archives